Summer Outdoor Education Credits
Your teenager joins 11 others on a 7-day whitewater canoeing expedition, earning a full (1.0) elective Ontario high school credit in Outdoor Education (course codes PAD 20 or PAD 30 or PAD 40).

Students collapse exhausted in their beds each night inflated with pride, mastering new skills, and feeling connected to a team that leans on one another and that lets you just be yourself.
Outdoor Education/Leadership Credits 2024
Summer 2024 Dates to be announced soon
Thank you so much for giving our grandson this experience. B has come home a different boy. He hasn't stopped talking since we picked him up. Seems to have fallen in love with trees, the wilderness and everything Boundless!
A Week of Adventure
Please note that weather conditions and other factors may impact what is described below
Day 1 
Whitewater body float. Flatwater training. Letting your hair down and getting to know your team
Day 2
Whitewater training. More whitewater training. Preparation for down river expedition.
Day 3
Descend the Madawaska River, with one night camping overlooking Rifle Chute. Pure Paradise.
Day 4
Return to Boundless and shower and breathe and chill.  Insane amount of chocolate chip cookies. Final preparation for Dumoine River expedition.
Days 5-7
Dumoine River journey. Camping two nights in what seems like heaven. Six major rapids and endless swifts. 500 foot bald Eagle Cliff. Bathing in whirlpools and tiny waterfalls. Many moments of hanging out in the nicest spot on the planet, on the nicest planet in the galaxy. On Day seven, we head back to Boundless, and then it's heading home time.
Generally, we wake up at 7:00 each morning, and go hard until bedtime.
We won't care how well your child performs in the whitewater. All we value is that the team supports each other and is kind to one another.
Testimonials
"Thanks for sending us back a kid who is more interested in life and who is pleased with his achievements and who talks glowingly about his time at Boundless!"
"Our son was thoroughly inspired by his experience, he loved it…he is changed forever, as you promised."
Credits that Can Be Earned
Grades 9-12 Outdoor Ed – PAD10, PAD20, PAD30, PAD40
Grade 11 Leadership and Peer Support – GPP30
Grade 12 Fitness and Recreational Leadership – PLF4M
A variety of coop courses
Tuition: $3,000. All in.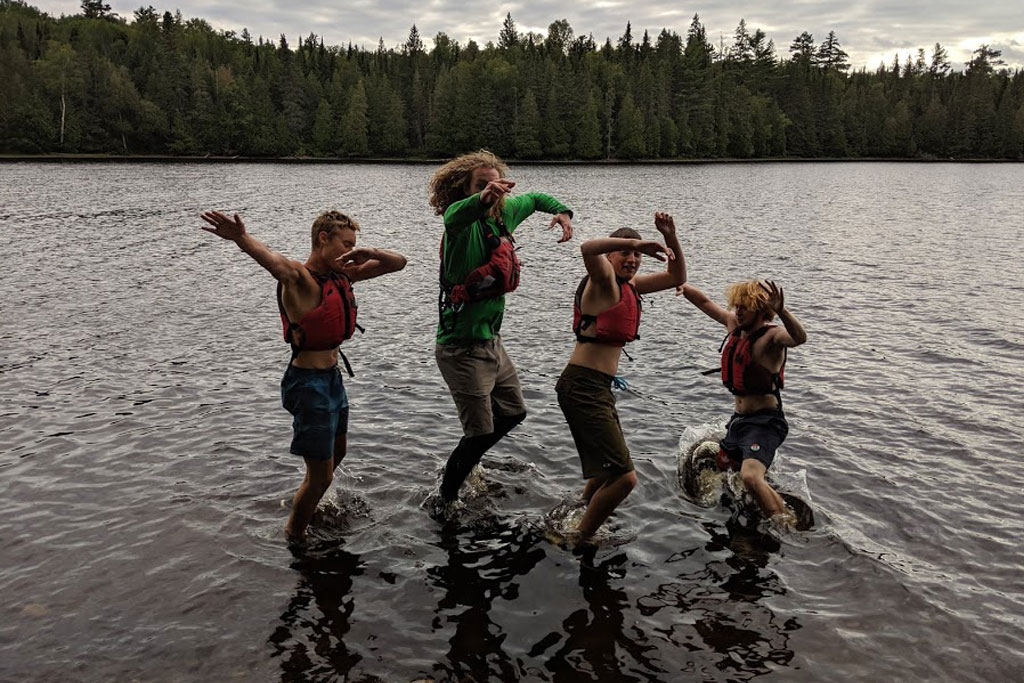 Where do we live? Are we staying in tents the whole time?
For Adventure courses, about half the time we go out on canoe trips and live in waterproof tents, cook over fires, check out rapids, count shooting stars, and eat great food that we lug with us into the wilderness. The camping is beautiful.
The other half of the trip, you stay in lodges that are way nicer than a regular summer camp "cabin." They are modern facilities with all the amenities of home, just a lot bigger. You'll be sharing a room with 3 or 4 other students.
What about food? Do we cook?
The food at Boundless is awesome. Ya, we know, we are supposed to say that. But really, the food is honestly great. The baked goods are ridiculous. There will be Boundless chefs who are dedicated to planning and preparing our food. You won't be expected to cook at our base camp, but come ready to cook and show off whatever chef skills you have on the canoe-trip portion of the adventure.
Do I have to do a lot of work?
Yes – but not classroom work. We have long days with lots of things to try. Paddling, group discussions, team challenges, and yes, there are chores – but these are no big deal. Come prepared for long days. We work and play hard at Boundless.
What do we do there?
All our Leadership and Outdoor Ed programs are about adventure. On any given day, you may be guiding a canoe, hanging from a harness on our ropes course, or enjoying a campfire with new friends. Nearly all of our activities are done in small and large groups, so be ready to participate with other people. We're up early, we push ourselves, we eat well, we play hard, and we go to bed – TIRED.
Is this a summer school?
Not really. When students hear the words "summer school," unpleasant images of sweaty classrooms and rows of desks come to mind.
You do learn and earn credits here, and it happens during the summer, but that is kind of where the comparison ends.
Depending on the program you are in, you might be outside for days at a time, reading your novel while floating down a picturesque river, or sitting in the woods pondering the nature of existence. We definitely do not slack off, but we have "lessons" that allow for movement, creativity and laughter.
What are your accepted payment methods?
Boundless accepts Visa and MasterCard – please call us with your credit card information. We also accept e-transfers. 
Additional questions?
If you have questions or require consultation about registering for a course, please contact Steven Gottlieb at: