Summer Outdoor Education Credits
Your teenager joins 11 others on a 10-day whitewater expedition, earning Ontario high school credits for grades 9-12.

Students collapse exhausted in their beds each night inflated with pride, mastering new skills, and feeling connected to a team that leans on one another and that lets you just be yourself.
Outdoor Education/Leadership Credits 2023
Outdoor Education/Leadership Credits
Session 1:  June 29th – July 8th, 2023 (2 Spot Left)
Session 2:  June 30th – July 9th, 2023 (3 Spots Left)
Session 3:  August 3rd – August 12th, 2023 (1 Spots Left)
Session 4:  August 4th – August 13th, 2023 (4 Spots Left)
Thank you so much for giving our grandson this experience. B has come home a different boy. He hasn't stopped talking since we picked him up. Seems to have fallen in love with trees, the wilderness and everything Boundless!
7:15AM
I wake up to the smell of coffee. Did you know you can make coffee even if you are 42,386 paddle strokes from the closest Tim Hortons? Turns out, a lot of the things I take for granted seem better when you have to work to get them. At least that's what they'll have me say. But there may be something to it.
9:00AM
So many rapids. Me and my paddling partner got cocky and told the staff we could run the last one with our eyes closed. The staff literally pulled out blindfolds. Epic swim.
12:00PM
The group voted where to stop for lunch and we settled on a beach next to a waterfall. I got challenged to a left-handed rock skipping competition. My record is 1.
3:00PM
Tonight's campsite is beautiful. Camp setup was a breeze. We are a well oiled machine. I never thought I would enjoy the simple pleasure of putting on dry socks so much.
6:00PM
It's my group's turn to cook everyone's food. I'm in charge. It's weird to have so many people looking at me for orders but I'm getting the hang of it although not everyone appreciates my Gordon Ramsey impersonation.
9:00PM
Evening program around the fire. I got the fire going and it is glorious. We learned some first aid and our "test" was a game of First Aid charades. Ever had a teacher try to silently act out 'diarrhea?' It defies description.
Testimonials
"Thanks for sending us back a kid who is more interested in life and who is pleased with his achievements and who talks glowingly about his time at Boundless!"
"Our son was thoroughly inspired by his experience, he loved it…he is changed forever, as you promised."
Credits that Can Be Earned
Grades 9-12 Outdoor Ed – PAD10, PAD20, PAD30, PAD40
Grade 11 Leadership and Peer Support – GPP30
Grade 12 Fitness and Recreational Leadership – PLF4M
A variety of coop courses
Tuition: $3,000. All in.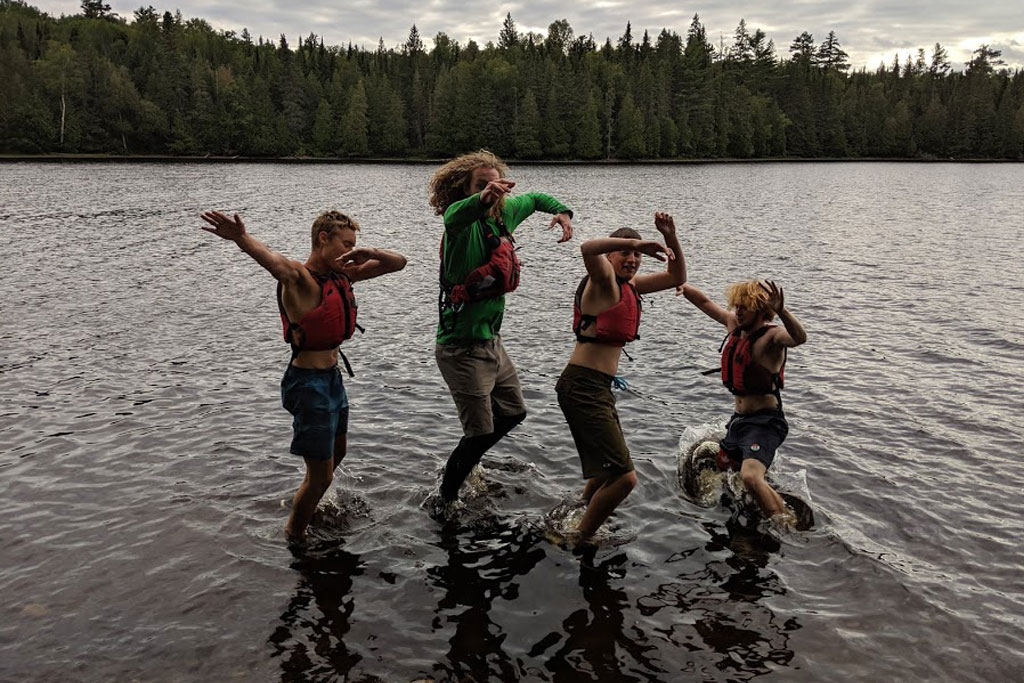 Where do we live? Are we staying in tents the whole time?
For Adventure courses, about half the time we go out on canoe trips and live in waterproof tents, cook over fires, check out rapids, count shooting stars, and eat great food that we lug with us into the wilderness. The camping is beautiful.
The other half of the trip, you stay in lodges that are way nicer than a regular summer camp "cabin." They are modern facilities with all the amenities of home, just a lot bigger. You'll be sharing a room with 3 or 4 other students.
What about food? Do we cook?
The food at Boundless is awesome. Ya, we know, we are supposed to say that. But really, the food is honestly great. The baked goods are ridiculous. There will be Boundless chefs who are dedicated to planning and preparing our food. You won't be expected to cook at our base camp, but come ready to cook and show off whatever chef skills you have on the canoe-trip portion of the adventure.
Do I have to do a lot of work?
Yes – but not classroom work. We have long days with lots of things to try. Paddling, group discussions, team challenges, and yes, there are chores – but these are no big deal. Come prepared for long days. We work and play hard at Boundless.
What do we do there?
All our Leadership and Outdoor Ed programs are about adventure. On any given day, you may be guiding a canoe, hanging from a harness on our ropes course, or enjoying a campfire with new friends. Nearly all of our activities are done in small and large groups, so be ready to participate with other people. We're up early, we push ourselves, we eat well, we play hard, and we go to bed – TIRED.
Is this a summer school?
Not really. When students hear the words "summer school," unpleasant images of sweaty classrooms and rows of desks come to mind.
You do learn and earn credits here, and it happens during the summer, but that is kind of where the comparison ends.
Depending on the program you are in, you might be outside for days at a time, reading your novel while floating down a picturesque river, or sitting in the woods pondering the nature of existence. We definitely do not slack off, but we have "lessons" that allow for movement, creativity and laughter.
What are your accepted payment methods?
Boundless accepts Visa and MasterCard – please call us with your credit card information. We also accept e-transfers. 
Additional questions?
If you have questions or require consultation about registering for a course, please contact Steven Gottlieb at: